With MemberPress Woocommerce Plus you can also sell one-time payment memberships through WooCommerce.
In this video I will demonstrate how to easily and quickly setup the membership product setting quickly and how to test the integration is working properly and smoothly.
To setup the membership product navigate to the "WooCommerce Products" menu and click on "add new".
Then, scroll down to the product data meta box, and define the product's settings in the "General" tab. Choose the relevant settings and set the price.
Next, head over to the "MemberPress" tab, activate the membership, and choose the relevant memberships.
Set the value and choose whether the membership will expire.
The MemberPress Tab: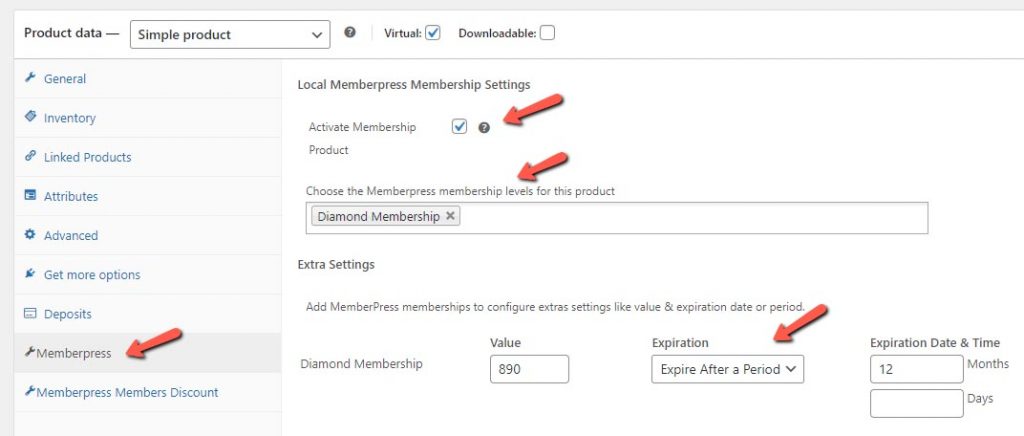 The value will be reflected in the MemberPress reports dashboard.
The value can be identical to the price of the WooCommerce product, or it can be lower, if the membership is just a portion of the overall product.
Next, select when the membership will expire.
If you select "Never Expire," the member will have lifetime access to the membership's content.
If you opt for the membership to have a specific duration, it will expire once that duration has elapsed.
Once you have defined the relevant settings, save the membership product.
To ensure that the integration is working and the customer is assigned to the relevant memberships, complete a test purchase.
When the WooCommerce order status is "Completed", the customer will be added to the relevant memberships within MemberPress:

By using MemberPress WooCommerce Plus, you have the ability to sell various product types, leading to a substantial increase in your sales and revenue.
You can get MemberPress WooCommerce Plus at HappyPlugins.com.
To discover more unique features of MemberPress WooCommerce Plus, check our other videos in the HappyPlugins YouTube channel.